YOUR HOME FOR EXCEPTIONAL PHYSICAL THERAPY IN LEBANON, TENNESSEE SINCE 2020!
STAR is now serving Lebanon, Tennessee, with two outpatient physical therapy clinics, with the addition of our Lebanon Highway 109 clinic! Our new clinic is conveniently located North of Interstate 40, just off Highway 109 on Eastgate Boulevard.
We provide comprehensive, world-class orthopedic physical therapy and occupational therapy care in a family-friendly environment. Our comprehensive physical therapy care successfully treats people from all walks of life. For example, we care for patients ranging from kids to the elderly, to active athletes and injured workers. Our staff is knowledgeable, and thorough, and works as a team to provide you with the best care possible. Above all, your time and well-being are important to us. As a result, our team of experienced clinicians will work to provide you with the best patient experience possible. For instance, we will design an individualized plan of care to help you reduce pain, regain function, achieve your goals, and help get your life back! In addition to orthopedic physical therapy, we offer many specialized programs, including: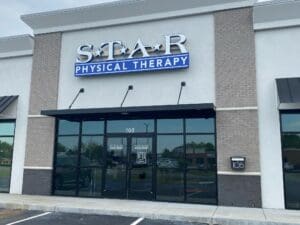 STAR makes scheduling your physical therapy appointment easy. Simply call our clinic, provide us with your insurance information, and let us know what your injury is. After that our staff will take care of the rest. STAR accepts most major insurance plans, and we will contact your insurance provider(s) to verify your benefits before your initial visit. To learn more about our patient experience, click here.
If you or a loved one need physical therapy, give us a call or stop by our clinic to learn how we can serve you. Further, our staff is like a family and will treat you like family. We would love to care for you.