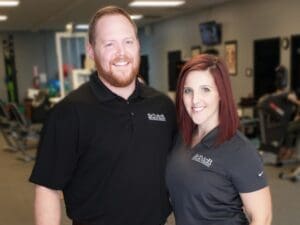 Our Farmington, Arkansas physical therapy clinic is located in Farmington Village right next to Farmington Eye Care. We are easily accessible for all who live or work in Farmington and are less than 10 minutes from the University of Arkansas.
At STAR Physical Therapy, we will serve you or your loved ones with world-class, hands-on care. Our staff works together to provide you with the highest quality care. At STAR, we want patients to feel like they are part of the STAR family when coming to us for physical therapy. We provide hands-on, individualized care for all of our patients. This ensures our clinicians spend the time necessary to get our patients better quickly.
In addition to orthopedic physical therapy, we also offer many specialized physical therapy programs in Farmington:
We feature a McKenzie Certified Therapist (Cert. MDT). McKenzie-trained therapists can assess your pain, quickly identify the cause(s), and treat your symptoms appropriately. In many cases, McKenzie-trained therapists can educate you to treat yourself so that you do not become dependent on attending too many physical therapy appointments. Patients treated and educated by McKenzie therapists can also manage their symptoms in the future and may prevent future physical therapy visits.
We also feature a Certified Orthopedic Manual Therapist (COMT). Certified Orthopedic Manual Therapists utilize hands-on manual treatment techniques to evaluate and treat a patient's joints, muscles, nerves, and connective tissues to facilitate healing and restore function.
Our state-of-the-art facility is equipped with the latest equipment and technology to ensure our patients receive the highest level of care possible. Further, we work closely with physicians and other healthcare providers to develop individualized treatment plans tailored to meet each patient's unique needs.
Our mission is to serve and help our patients achieve their goals and improve their quality of life through exceptional physical therapy care. We are committed to providing a welcoming and supportive environment where our patients feel comfortable and confident in their treatment.
If you are looking for expert physical therapy services in Farmington, Tennessee, look no further than STAR Physical Therapy. STAR makes scheduling your physical therapy appointment easy. Simply give us a call, provide your insurance information, let us know details about your injury, and we will take care of the rest. STAR accepts most major insurance plans, and we will contact your insurance provider(s) to verify your benefits before your initial visit. To learn more about our patient experience, click here.
You have a choice when choosing a physical therapy provider. There are many reasons to Choose STAR. We would love to care for you and your loved ones. Contact us today to schedule an appointment and take the first step towards a healthier, more active life! We are proud to have served Farmington since 2019!