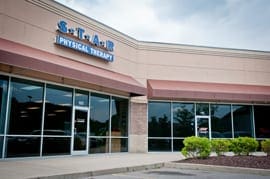 Our Ashland City physical therapy clinic is conveniently located across from Walmart, next to Don Pancho, and near Sidelines Grill. Our mission is to serve Ashland City with world-class Physical Therapy care and customer service in a fun and family-friendly environment. We provide individualized, hands-on care to ensure our patients recover fully and quickly. In addition to orthopedic physical therapy, we also offer many specialized physical therapy programs including:
STAR makes scheduling physical therapy appointments easy. Call our clinic, provide us with your insurance information, and tell us a little about your injury, and we will handle the rest for you. In addition to accepting most major insurance plans, we will contact your insurance provider(s) to verify your benefits before your first visit. To learn more about the new patient experience, click here.
You have a choice when it comes to picking a physical therapy provider. There are many reasons you should Choose STAR. We would love to care for you. Contact our Ashland City Physical Therapy clinic if you would like to schedule an appointment or learn more. We would love the chance to care for you. We are proud to have served Ashland City since 2005.