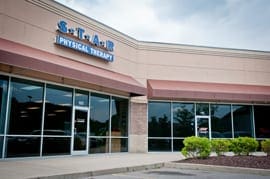 Located across from Wal-Mart, our Ashland City clinic is convenient to everyone in the community. Our staff specializes in all areas of orthopedic care. We provide one-on-one, individualized care to maximize your therapy experience.  In addition to outpatient orthopedic physical therapy, we offer specialized care programs including:
STAR makes scheduling your physical therapy appointment easy. Simply call our clinic, provide us with your insurance information, let us know what your injury is, and we will take care of the rest. STAR accepts most major insurance plans and we will contact your insurance provider(s) to verify your benefits before your initial visit. To learn more about the new patient experience, click here.
If you or a loved one are in need of physical therapy, give us a call or stop by our clinic. We would love to care for you. Serving Ashland City since 2005.