STAR Physical Therapy is excited to announce the opening of our newest physical therapy clinic – Farmington, Arkansas. STAR Physical Therapy was founded in 1997 with one clinic and one mission – To Serve You. Today, we have grown to serve Tennessee with over 65 outpatient physical therapy centers and are excited to expand our services into Farmington, Arkansas. We provide world-class, hands-on physical therapy, sports medicine, and industrial rehabilitation in the convenience of your hometown. Our industry-leading clinician education program ensures that your physical therapy experience will be exceptional. Rest assured that, when you choose STAR Physical Therapy, you will be treated by a "Great mechanic of the human body".
Mitch Wewers, PT, DPT, Cert. MDT will be the director and his wife Britney, PT, DPT, COMT, will be working alongside him. The location of our Farmington, Arkansas clinic is 68 E Main Street, Unit F. Farmington, Arkansas 72730.
Mitch is thrilled to be joining the Farmington, Arkansas community! Originally from Arkansas, Mitch grew up in Subiaco and attended Arkansas Tech University, where he received his Bachelor of Science in Health and Wellness in 2008. He then attended the University of Central Arkansas, graduating in 2014 with his Doctorate of Physical Therapy. Mitch joined the STAR Physical Therapy family in Nashville, Tennessee in 2014. He worked primarily in the Mt. Juliet location and most recently led the therapy team there as clinic director for two years.
Mitch is passionate about treating orthopedic and sports-related injuries. He has received extended training on the assessment of Functional Movement Disorders, Integrative Dry Needling, and Blood Flow Restriction, and most recently obtained his certification in the McKenzie Method (MDT), an evidence-based approach to the assessment and treatment of back, neck, and extremity disorders. He looks forward to serving the Farmington community and restoring his patients back to the life they enjoy.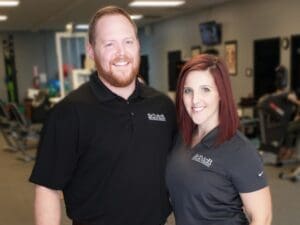 Britney is excited to begin serving the Farmington, Arkansas community. A native of Oklahoma, Britney received her Bachelor of Science degree in Biology from East Central University in 2011. She then obtained her Doctorate of Physical Therapy from the University of Central Arkansas in 2014. She joined the STAR Physical Therapy family in 2018, leading the therapy team as clinic director at the Hendersonville location in Tennessee. 
Since graduation, Britney has further advanced her clinical skills by becoming a Certified Orthopedic Manual Therapist (COMT). She has also received training in Dry Needling and Blood Flow Restriction Training. Along with a passion for treating all types of musculoskeletal conditions, Britney has a keen interest in educating patients about chronic pain management and the dynamics of shoulders and hips. Her primary goal? To bring hope and an improved quality of life for both her patients and her community.
To learn more about STAR Physical Therapy's Farmington location, click here.
We are truly blessed to expand our service into Northwest Arkansas and the Farmington Community. We look forward to serving you with industry-leading, individualized physical therapy care!